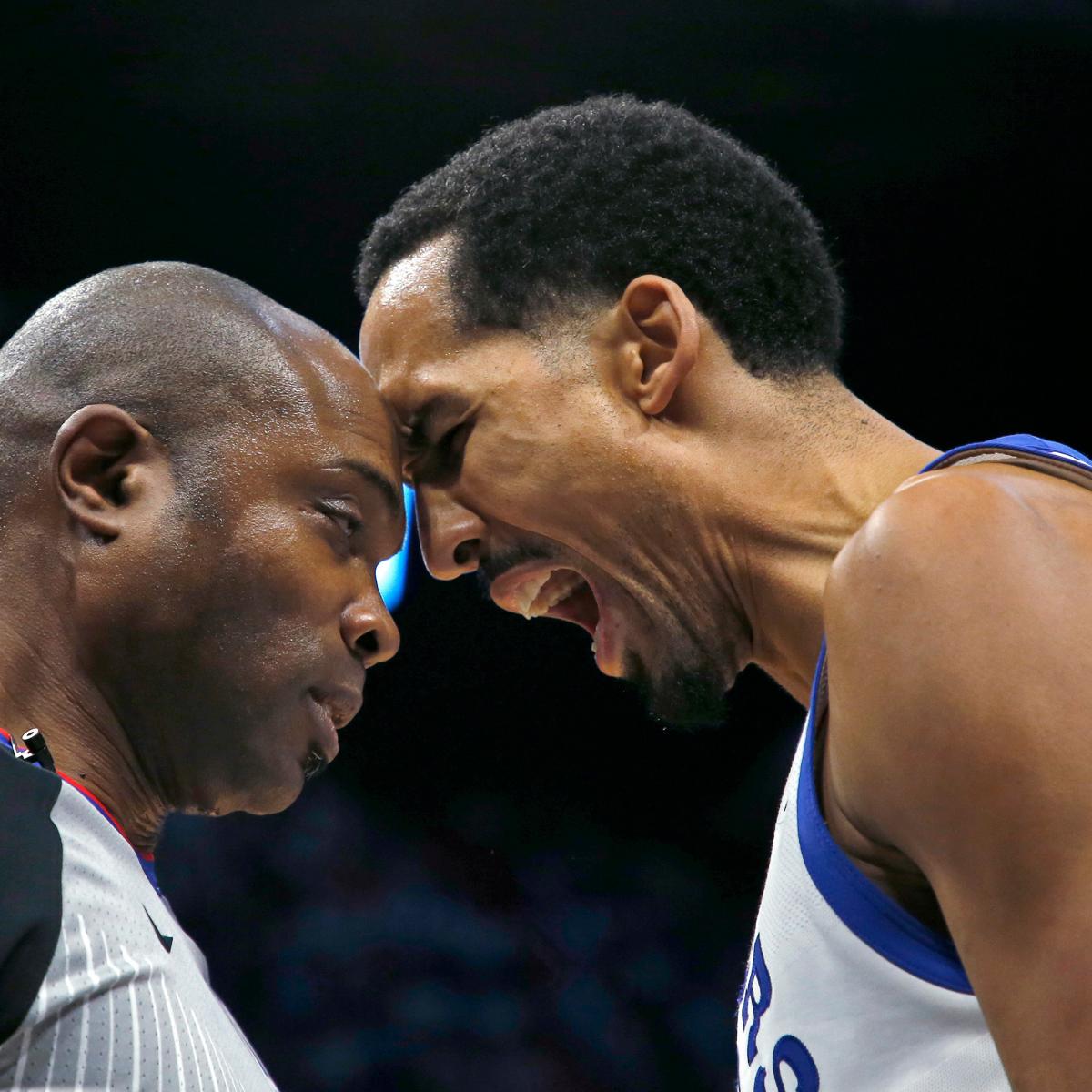 Joe Skipper/Associated Press
This past NBA season featured no shortage of tension between players and the referees, so much so that the two sides had to meet during the All-Star break to try to create a working relationship. 
It certainly didn't help the league that the team with the brightest spotlight reportedly had the worst relationship with the officials.
"I heard the worst meeting was the Warriors," Brooklyn Nets forward Jared Dudley told ESPN's Adrian Wojnarowski on The Woj Pod  (around the 34:40 mark). "I heard it was the worst meeting, like they were turning their back on them. That's what I heard." 
From Stephen Curry (two technicals, one ejection) to Kevin Durant (14 technicals, five ejections) to Draymond Green (15 technicals, three ejections), the Golden State Warriors had their fair share of run-ins with the refs. 
Perhaps the most notable player-referee confrontation of the season involved Warriors guard Shaun Livingston:
Bleacher Report @BleacherReport

Livingston gets tossed after going forehead to forehead with the ref 👀 https://t.co/DYZLZq3KSe
Livingston was suspended for one game, and referee Courtney Kirkland was removed from the officiating rotation for one week.
A total of 15 players throughout the league received double-digit technicals this past season. Golden State had two of those players (Green and Durant) and added another (DeMarcus Cousins, 10) this offseason.
Both sides have received blame for the rising tensions. Some believe the players are at fault for complaining with more frequency as well as letting their emotions get the best of them in the heat of the moment. Others, though, believe a new wave of referees, who are younger and less experienced, are too quick to pull the trigger on technicals.
When a player gets T'ed up, it not only hurts the team on the court, but it hurts the player's bank account as well because the league fines them for technicals. And therein lies the problem.
Commissioner Adam Silver was pleased that the two sides sat down together last season to try to resolve their differences. Now, he has to hope that the tension is a thing of the past and the league can get through the 2018-19 season with minimal issues.